POPULAR TAGS
noob

,
lol

,
Dommes,London

,
BDSM,

,
London

,
Mistresses,

,
Fetish,

,
Dominatrix

,
rubber,

,
latex,

,
gummi,

,
medical,

,
london

,
mistresses,

,
dommes,

,
Miss

,
Myers,

,
Mistress

,
interview

,
Hunteress,

,
Glove

,
fetish

,
SARAX,

,
FEMDOM

,
ART

,
LEATHER

,
DOMME

,
darcy

,
Gloves,

,
MIstress

,
Sadie

,
domina,

,
octavia

,
brazil

,
mistress

,
russian

,
domme

,
lesbian,

,
eve

,
THE LONDON MISTRESSES
Welcome to the London Mistresses, the number one Domme directory for pain and pleasure in the capital. We offer a comprehensive list of Professional Mistresses applying their whip in the London area. Search for your Dominatrix by location, post code area or by BDSM activity.
New to it all? Visit our NOVICES page.
Click here to be a VIP Mistress.
MISTRESS SEARCH
Choose location
MISS MYERS WISHES YOU A MERRY XMAS!
24.12.2013
Recent interviewee Miss Myers kindly donated us this sexy image of xmas for everyone to enjoy.
Merry xmas kinksters!
The London Mistresses
_____________________________________________________________________________________________________
NEWS FROM THE HOUSE OF MYERS!
09.11.2013
News from the House of Myers
Miss Myers launches Her new blog
The Severity of Miss Myers, The Adventures of London's Quintessential English Mistress, is now officially launched. Here you will find the more informal voice of Miss Myers and a glimpse of her life outside the playroom. The blog details Her forays to some of London's most strange, bizarre and cutting edge cultural events, news of Her latest photo shoots and films, updates regarding the august institution that is the Malice and Myers Academy, Her personal musings on life the universe and everything and images from Her favourite erotic artists, illustrators and photographers.
Miss Myers has been working away at this projects, in spare moments between the necessary disciplining of naughty boys, for quite a while now, so there are more than two pages of posts to peruse. Do enjoy your explorations! She will be making new additions to the blog each week
http://www.houseofmyers.com/blog/
Miss Myers Presents the Art of Sensual Spanking at Sh!
Miss Myers is happy to announce that following on from the success of Her workshop BDSM in the Bedroom, She has been asked back by Women's Erotic Emporium Sh! to present a new workshop; The Art of Sensual Spanking.
The workshop, which is for ladies only, is taking place on Thursday 14th November at the Sh! store in Hoxton. After champagne and cupcakes, Miss Myers will share Her sensual spanking secrets with the ladies presents and teach them how to use the hand and other traditional tools of corporal punishment in such a way that will pleasure as opposed to punish. She certainly intends to send them away full of all kinds of wicked ideas to try out on hapless partners, however Miss Myers shall post a full report of this workshop on Her blog.
Click here for more information about this workshop.
Exclusive Mistress Interview with Miss Myers!
01.11.2013
Every Mistress has a different story on how they entered the profession. What's yours?

I found my way into the wonderfully wicked world of BDSM via an ex-partner who wanted to explore the fetish scene. I have always been an open-minded sort so I went along for the ride. After that theire was no looking back and Miss Myers was born in February 2010 after I had trained for 18 months, principally with Mistress Eleise de Lacy who now runs the Femme Fetale website.

Has the world of BDSM changed a lot since you started?

I think that BDSM has come increasingly into the main stream, largely due to what I like to call the "50 Shades of Grey effect". The Internet and the presence of clubs like Torture Garden in the mainstream has meant that the world of kinky sex has been emerging from the shadows for a long time now, but 50 Shades has undeniably accelerated this process and played a major role in shifting attitudes towards BDSM. Scandalized tabloid headlines are slowly being replaced by a titillated curiosity in the Mistress and the Master, dominance and submission. And if attendance by ladies at the workshops I give is anything to go by, the desire to liven things up in the bedroom with a few kinky twists is rampant amongst the females of the species at least!

How would you describe a session with yourself?
Do expect, elegance, sophistication, silk stockings, black satin gloves, strings of pearls, exquisite heels, seductive laughter, chilling whispers, cruel twists of fate, soft muted lighting and Turkish rugs. Don't expect very shiny outfits, shouting, crude insults, abuse of the English Language, set routines or dingy dungeons.

Do you have any BDSM activities that are a particular favourite?
Oh do I really have to answer this? I do find this the most tedious of questions and one often asked by clients. There are some BDSM activities I do not engage with and these are listed on my website. However, I do not have a "favourite activity" as such. I am a Mistress of the mind. I want to get inside your head and under your skin. As every lock has a different key, so every client is different. What unlocks a heady world of eroticism for one individual will leave another cold and no doubt just feeling a bit silly. Of course I can put the whip, the nipple clamp, the dildo to expert use. I am highly skilled in all the practical and technical arts of the Mistress, but what will truly terrify you is my ability to get know your deepest, darkest, most deviant thoughts and desires, however hard you might try to conceal them from me….
Do you ever socialise much with other Mistresses?
I do indeed. I am very good friends with Mistress Alice Malice with whom I run the Malice and Myers Academy and also with Maitresse Nuit and Lady Louella. I always enjoy going to Pedestal where I am sure to run into lots of friendly and familiar faces.
In fact, Miss Malice and I are heading to the spa tomorrow for some much needed TLC. I am sure some of you would love to be a fly on the wall for that event….

What do you enjoy doing outside of being a Mistress?
I read a lot and I love to cook. I also enjoy experiencing London's restaurants, galleries and theatres. Oh and I love finding a bargain in a vintage shop!
What has been your favourite/weirdest gift from a slave so far?
I have been fortunate enough to receive some wonderful gifts from devoted and thoughtful slaves including a 1920's carved ivory cigarette holder and a very early edition of Venus in Furs.



And finally...


Latex or leather?

A perfectly tailored pair of leather trousers
Gloves or boots?
I love both. I simply can't decide

Spanking or caning?
If you are good a spanking followed by a caning. If you are bad straight in with the cane I'm afraid.

Gag or hood?
My silk panties in your mouth.

CBT or nipple torture?
Well perhaps I will start with your nipples and the only way you can make it stop is to beg for me to torture your balls and then the pain in your balls is so excruciating you beg for some attention to your nipples and the vicious circle starts again. Life's a bitch sometimes isn't it…

St Andrew's cross or whipping bench?
The bench.

Face sitting or boot kissing?
My boots kissed tip to toe and licked clean with your tongue. Though a foot massage would be even better.

Poppers or not?
I'd prefer not. I think merely being at my feet is quite stimulating enough.

Naked slave or rubberised slave?
As nature intended

Sensual Domme or Mega Bitch?
Sweet sensuality one moment and cold cruelty the next. Well I can't have you getting complacent now, can I?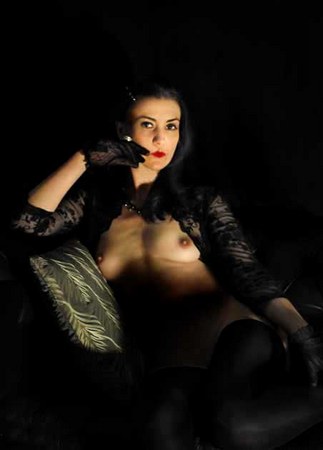 To book a session with Miss Myers visit www.houseofmyers.com
_____________________________________________________________________________________________________